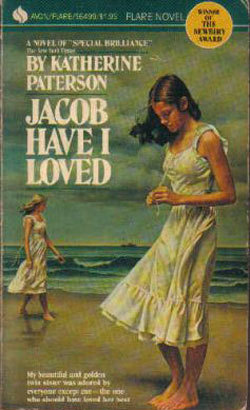 As part of my summer reading bender Summer of Shelf Discovery, Chapter 4 of Lizzie Skurnick's reading memoir, Shelf Discovery, is "Read 'Em and Weep: Tearing Up the Pages" about the books we read (and re-read) that made us cry. The first book of the chapter and the first one I chose to re-read was Jacob Have I Loved by Katherine Paterson, a book which has followed me through all my moves.
Written from an adult perspective looking back on childhood, it's narrated by Louise, the elder of twins who resented her younger, prettier, musically talented twin. There was a part in the middle about an inappropriate crush that I'd utterly forgotten. As a girl, I identified fiercely with Louise, and found myself right back with my younger self as I read this, which reminded me of one of my favorite quotes from Joan Didion, from "On Keeping a Notebook"
I think we are well advised to keep on nodding terms with the people we used to be, whether we find them attractive company or not. Otherwise they turn up unannounced and surprise us, come hammering on the mind's door at 4 a.m. of a bad night and demand to know who deserted them, who betrayed them, who is going to make amends. We forget all too soon the things we thought we could never forget. We forget the loves and the betrayals alike, forget what we whispered and what we screamed, forget who we were.
This book is a perfect example of a characters who DOESN'T forget. It's complicated, sweet, and sad without being a message or a SAD EVENT novel. I loved it all over again.