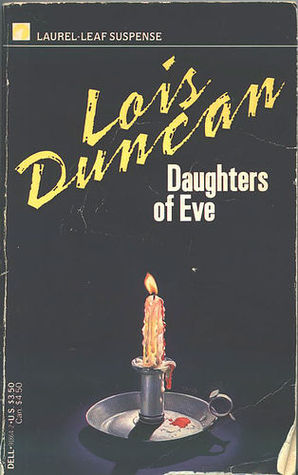 Somehow I never read Lois Duncan's Daughters of Eve back in the day. Its 70's feminism is a fascinating compare/contrast with Beverly Cleary's idyllic 60's pre-Vietnam Sister of the Bride. I read it out of Chapter 3, "Danger Girls" from Lizzie Skurnick's Shelf Discovery.
With Daughters of Eve, some things I saw coming, some things I didn't. It reminded me of the after-school special The Wave, with its charismatic leader and students led down problematic paths. (Book version of The Wave here.)
Perhaps it was me, but I thought that it did a decent job of showing that bad people can represent decent causes and undermine them, though I think it can also be read as an indictment of 70's feminism/feminists.
The post script was sad and thought provoking. I wondered what happened to other of the characters, but should probably go back and make those up myself, since I complained of how Raskin did that in The Westing Game.
A note of caution: Many of the Duncan novels were recently "updated" by sprinkling them with modern devices like cell phones and such in order to market them in admittedly attractive new editions. You can read takes on these updates from Amy at New Century Reading and M at Mental Multivitamin. I recommend seeking out the originals. Tech moves so fast these days that the updates are probably already outdated. While I heartily endorse keeping these books in print and am thrilled that a new generation is finding them (though I did discourage my nearly 9yo son from sniffing around them, which he did all the more intently when I tried to shoo him off; should I have done this? I was reading them when I was 9, I think.) I think readers can engage just fine with books set at a certain point in time. If Starring Sally J and Jacob Have I Loved are set in the 40's, why not the Duncans set in the 60's, 70's, 80's?