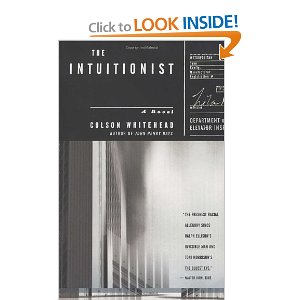 I'm having one of those days where I can't find things. Couldn't find the charger for one of our gadgets, and then couldn't find my copy of The Intuitionist by Colson Whitehead so I could pull a segment out to show you how much trippy fun his prose is.
Tellingly, my first thought was, "huh, must be one of those days, stars out of alignment and what not."
When really, the correct response is "this house is an effing pit, and I really need to stop being so sluttish about the housewifery. (NB "sluttish" used in the English, not American sense.)

The Intuitionist was Whitehead's first novel, and it's a mind-bending work. Lila Mae Watson is the first black female elevator inspector, in an alternate reality where elevators are really important, and racism is overt.
"Lila Mae Watson," she says. "I've come to inspect your elevator."

The man's lips arch up toward his nose and Lila Mae understands that he's never seen an elevator inspector like her before….He doesn't like her. "Let me see your badge," the man says, but Lila Mae's hand is already fishing in her jacket pocket. She flips open her identification and holds it up to the man's face. He doesn't bother to look at it. He just asked for effect.

The hallway sells of burning animal fat and obscure gravies boiling to slag. (4, 5)
(As you can see, I found my copy. It was hiding under some of the boy's school papers right next to my desk.)
Elevator inspectors come in two flavors: Intuitionists, who sense what's wrong with the elevator by trying it separate it from its "elevator-ness"; and Empiricists, who crunch numbers. When Lila Mae is implicated in an accident, these two groups scramble to place the blame in the other groups' camp, all while some noir-ish mystery plays out with kidnapping, torture, hired goons, and alluring strangers.
As a story, it's compulsively readable, but its also about race, change, and potentially all sorts of other things. I continue to ruminate on it after I finished. Engaging and thought provoking, my favorite combination.