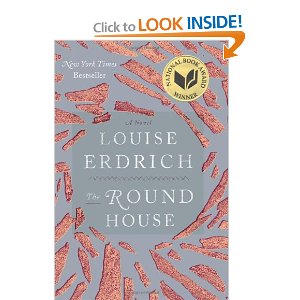 Louise Erdrich's The Round House. She's a local writer, I've admired and enjoyed the other books I've read by her (particularly The Last Report of the Miracles at Little No Horse). It won the National Book Award and the Minnesota Book Award. And it's a contender for the Morning News Tournament of Books. Was there any way I wouldn't read it? Nope.
As with most of her novels, this one is set on the reservation in North Dakota. It has both new characters and ones from previous books. Unlike most of her other books, it is narrated only from the point of view of one character, 13yo Joe, though told from an adult vantage point. In this way and many others, it reminded me a great deal of the film Stand by Me. It's a coming of age novel, centering on a group of four boys, one who comes from a happy but injured family, another who is good hearted by bad reputed.
Joe's world is upended when his mother is attacked, and what follows is something of a conventional mystery–who did it and why?–but also has the added element of Law and Order of how the crime is discovered and prosecuted (or not).
I found Joe and his friends engaging main characters, I was delighted to hear about Father Damien and Nanapush again. I was pulled along by the story, and felt for the surrounding characters of Joe's parents, his uncle's girlfriend Sonja, and Linda Wishkob.
What underlies this book, and elevates it in my opinion, is its foundation of social justice, and the way it highlights how powerless women on a reservation are in the face of certain crimes. Erdrich wrote an op-ed on this in the New York Times, and the recently signed Violence Against Women Act, a move in the right direction.
Opinion on Round House is mixed. Some, like me, loved it. Others think it's middling, not engaging enough, with an uncompelling protagonist, and a preachy tone. There was a lot of contention after its match in the The Tournament of Books. To each her own. But this book will stay with me for some time, especially the ending, and the questions raised by Joe's actions and decisions, and whether I agree with them or not.