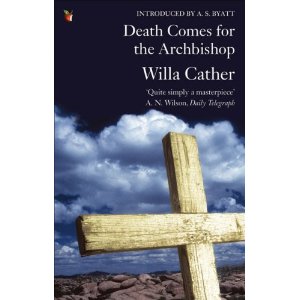 Willa Cather's Death Comes for the Archbishop is the lovely story of Father Jean Marie Latour in the mid 1800's going to New Mexico and the western territory. The book is told more in impressionistic standalone stories than in chapters. I had to re-read passages sometimes for them to "stick".
Father Jean and his right-hand man Father Joseph minister to an ever-increasing territory. One of the surprises to me was how much and often these characters traveled. Back and forth to France and all across the west from Colorado to Mexico?
Joseph was more vibrant to me than Jean, so it seemed odd he was the secondary character. In its mix of Catholicism and Native American culture, I was often reminded of one of my favorite books, Louise Erdrich's Last Report on the Miracles of Little No Horse. Father Jean was lovely, but he's no Father Damien. But then, what character possibly could be?
Reading this is part of my auto-didactic, self edu-ma-cating project. I don't think I've ever read Cather before. Now I've got My Antonia and O, Pioneers on my radar. Filling in the gaps of my reading education is like spitting in the ocean, but oh, I do love it.