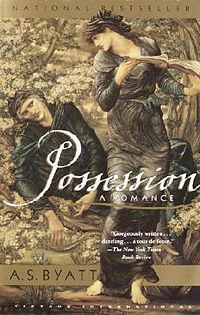 It is not an exaggeration to say Possession by A.S. Byatt changed my life, and for the better, after I read it in the winter of December 94/January 95. I was working unhappily in marketing for a company I no longer believed in, and realized (again, in the way of so many epiphanies, I have to have them multiple times for them to stick) that I needed to find a way to get religion and literature in my life.
Over the years, I've been trepidatious to read it again. What if I didn't care for it, or The Suck Fairy had visited? I'm happy to say that a second reading only affirmed this book as one of favorites, if not perhaps The Favorite. I've often described this book as having everything: history, mystery, poetry, religion, science, romance and adventure. It's like the Indiana Jones of novels, or The DaVinci Code if written well by an academic.
I dragged my feet on researching the book before a discussion I'll be leading today. Again, that was silly. Here are a few of the best articles I found. And having dipped into them, I am now interested to go haring off in other literary directions, which is what my favorite books do to me.
If you haven't read it, or haven't read it lately, it stands up, and is more timely than ever in this age of atheism Hitch/Dawkins et al.
The Wikipedia entry on Possession
Wikipedia on Christina Rossetti, the model for Christabel LaMotte
NYT article on Byatt after Possession won the Booker, "What Possessed A.S. Byatt?"
"On Possession" at The Poet's Forum
A re-evaluation of Byatt by a former skeptic, at the Guardian's Book Blog.
Another take on it at the Guardian's Book Club