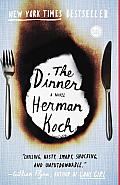 Another contender in The Tournament of Books, I knew I was going to read The Dinner by Herman Koch because friends had said good things about it. But I was intruiged by …
OMG, I have GOT to come up with a new word for intriugued because I canNOT seem to spell it and I am not going to try and keep going back and correct intriuged.. It's like my spelling kryptonite.
Anyhoo. I found it interesting that The Dinner had a relatively low rating. Lots of hate for the book. Who was right, my friends, or the people of Goodreads?
Well, duh. You people, of course.
Please, forgive the pun, but I devoured The Dinner. It starts off and a guy's going out to dinner with some other guy and he doesn't want to go, and the other guy sounds like a jerk, and slowly, oh so slowly the story unspools and you find out how they're connected, what the dinner's about, what all the bajillion undercurrents are, and what truly horrible people these people are, and I had to wonder if I'm horrible for having been fascinated by horrible people. Certainly I can see why there's a lot of hate for the book, because the characters and what they do are hateful. This is a great example of a book that a lot of people hate because the characters aren't likable. But oh, are they mesmerizing. I was fascinated by this one.