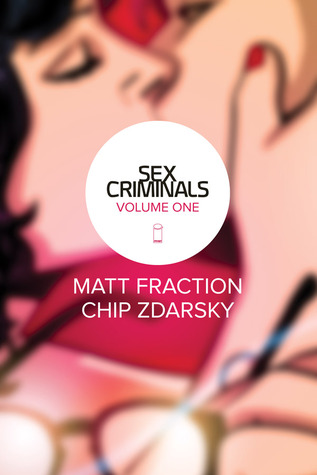 As I try to catch up on my book blogging, I keep an eye out for opportunities to condense and collapse, two books by an author, or graphic novels. Should I pair a graphic novel with the novel that spurred me to re-read it? Or should I pair it with the other graphic novel I read near it, which was superficially very different, yet perhaps lurkingly the same. As I type this, I've gone with the latter, but we'll see how things end up. I may have to give each of them their own entry.
Let's just get this out of the way, then, especially for you kind readers who visit from Semicolon's Review of Books. One of the graphic novels is a collection of the series Sex Criminals: One Weird Trick by Matt Fraction and Chip Zdarsky. It was recommended by a friend who leads a local book group. I had passed on it because of its title both when I saw the comic coming out monthly and when I saw it collected, but my friend was adamant that it was great, so I gambled the $9.99 (well played, Image Comics marketing) for the collection, and ended up glad I did. While it is definitely weird, and about sex, it isn't depraved. In fact, it's often kind of sweet. Really!
Suzie is an average young woman who works in a library about to be bought by a large corporation. There is one weird thing about her, though. When she has an orgasm, time stops, and she can wander around in it while others are frozen. One night at a party, she and a guy named Jon hit it off, and she is startled to learn he has the same ability. Jon is a book-loving geek, and he and Suzie are quickly fascinated and infatuated with one another. With their rising passion, they conceive the idea to rob the bank that's destroying the library and buy back the books with what they steal. They're like Robin Hood, with orgasms. Unfortunately, they're alarmed to find there are some sort of sex police who can also move in stopped time, intent on stopping Suzie and Jon, no matter how well intentioned.
Sex Criminals is one weird trick, indeed. Suzie and Jon are so charming, though, and the questions about who and what the time police are, have me waiting eagerly for the next collection. So eagerly, in fact, that I am now reading it monthly, not waiting for the trade.
OK, well, there you go. Apparently, I think Sex Criminals deserves its own entry.