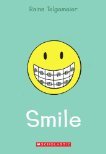 I read Raina Telgemaier's second book, Drama, before I read her first, the comic-book memoir Smile. I liked Drama, but didn't love, and figured I'd check out Smile at my leisure.
In the comic shop a few weeks ago, they had a box set of Smile plus Telgemaier's new book, Sisters. I hemmed and hawed about buying them. You know the drill–not supposed to spend money, not supposed to buy more books, not sure I'll like them, blah, blah, blah. Then, to absolutely no one's surprise, I bought them.
To MY surprise, however, I was not the first one to read them. 11yo Drake and 8yo Guppy tore into them as soon as we got into the car, then traded, then re-read them. I'd bought them for me, hoping the boys might, maybe, be interested in these books even if they were about girls. Both boys had read both books multiple times by the time I got to them.
And they're just lovely. Smile is the story of Raina's childhood accident when she loses her two front permanent teeth, and has to navigate dentral trauma and drama in her early teens. Sisters is another window that focuses on her relationship with her younger sister Amara, and a cross-country car trip in a van.
The art is well done and accessible, the stories and emotions full of stuff to relate to. It was a joy to visit Raina's childhood both times, even when it was difficult and sad.
A few days later, one of Drake's friends down the street borrowed the books, then returned them. Apparently his mom and older brother had also read and enjoyed them in the meantime.
I'm not sure I've ever bought books that were so loved by so many, so quickly! A definite win.