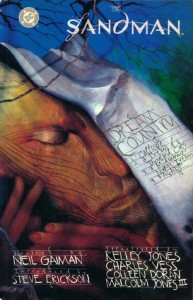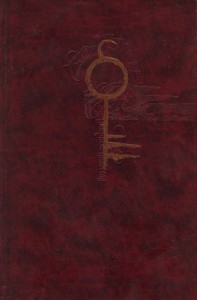 I was toodling along last week after finishing Sandman v3: Dream Country, getting my holiday cards addressed and sent out, reading Not My Father's Son by Alan Cumming which I got from the library and had to return soon, when I consulted the Sandman readalong schedule, you know, the one _I_ made, and realized with a jolt that I had scheduled TWO of the Sandman graphic novels to discuss today. So I had to get cracking. I finished the Cumming book and returned it to the library, and finished Sandman v4: Season of Mists as well as reading the chapter on it in Hy Bender's Sandman Companion and the relevant covers in Dustcovers.
I know reading both these books in one week is a lot; we are cramming 75+ issues/10 graphic novels into a 2 month period with a week off for busy time. How is the reading process going for everyone? Too fast, or are the stories devour-able enough to keep to this hectic pace?
To the books, then. Dream Country is four short stories. Gaiman says that while he's writing the longer story arcs, he has ideas for these shorts, that he "holds" and writes them in between times.
"Calliope." I went down a rabbit hole by starting to re-read the comments from a readalong NPR's Monkey See blog did a few years ago. Then I realized I'd never get done. I enjoy this story, while it also disturbs me. It's more graphic than I'd like, especially the rape and naked stuff. There's always the question of: is it a critique, or does it automatically implicitly condone nakedness/rape by showing it at all. Yes, Madoc is a tool, and Fry was before him. Not just a tool, but a rapist, kidnapper, and all around horrible person. But there's this thing that happens with Gaiman fans where they worship him and say he's such a feminist writer, (ditto for Joss Whedon, who gets called a feminist when he wrote a space prostitute, for heaven's sake) and I don't buy that–I think Gaiman is poking fun at himself in this comic, too. I hope he'd acknowledge that there's some Madoc in him. But, I liked all the Greek myths, and meditations on Rules, and forgiveness, in contrast to how Dream left Burgess in volume 1.
"Dream of a Thousand Cats" is one of the most accessible of Sandman stories, I think, and highlights how Dream shifts radically in appearance depending on who sees him.
"A Midsummer Night's Dream" This is Shakespeare Nerd nirvana. LOVE IT. One of my favorite issues. Funny, sad, and beautiful, with Vess's Arthur Rackham inspired art perfectly suited to the fair folk.
"Facade" Yay, we get to see Death again! Poor Rainey. All those ashtray face masks. A very different artist, Doran, and one who draws a good, real, female anatomy, IMO.
Season of Mists. Holy cats, people, how am I supposed to summarize this? The art in this one is all over the place, perhaps due to its having four different artists and four different inkers, all in different pairings except for Chapters 1 and 2, and even those had different colorists.
Episode 0: Family meeting (awkward!) The 3 ladies, again. Questions: how did Delight become Delirium? Who is The Prodigal (Pet peeve: Prodigal means wasteful, not "s/he who goes away" though that's how most people use and understand it.) Love how Death calls Dream on his $hit. Also, favorite lines:
Death to Dream: Have a grape.
Dream. I do not want a grape.
Desire: I could MAKE you want one.
Episode 1. Dream prepares
Episode 2. The return to hell. Things don't go as planned. How about that splash page spread of pages 2 and 3?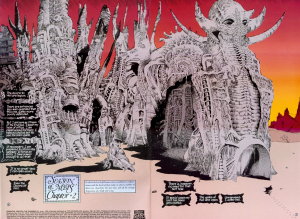 Hey, have you watched the documentary Jodorowsky's Dune? Well, you should, as it's awesome. One of the last things it does is shows how some of the design elements from the film that was never made nonetheless came into being in other creative works. Thus, I was reminded of this by the splash page: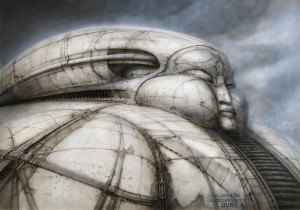 Though the Sandman art could also have been influenced by the HR Giger interpretation that appeared in Alien: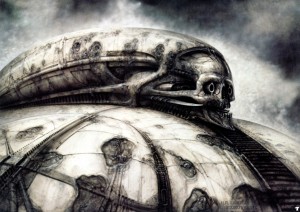 Wow, I am totally never going to finish this post but I am having fun GEEKING OUT.
I enjoy when Luficer asks Mazikeen for her knife, and we think he's going to cut her, but instead slips her something else, his tongue, on the page turn and has Dream use the knife otherwise.
Episode 3: Lots of Gods! Again with the skinny, nearly naked blond woman. Boo. I love how Kelly Jones draws Dream's robes, though, as here: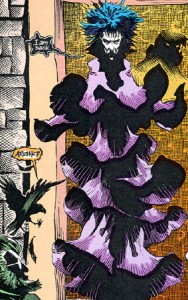 See that shadow over Dream's shoulder, on the reader's right? Rumor has it that's a nod to Dave Sims' long-running character Cerebus the Aardvark.
[OK, I have to stop here to go home from my satellite office at the coffee shop to my small children, who I left at home while my husband G. Grod works from home. But more, later, because giving this complex storyline short shrift would be sad, no?]
Edited to add on 12/27: Episode 3: Death looks disturbingly like Sean Young on page 12. Silver city looks like it's made of phalluses p 14. Thor is a drunk asshole! I am amused that the lord of order incarnates as an empty box.
Episode 4: Poor, poor Charles Rowland. This is another horror story, and these really stick with me, alas. Illustrated by Matt Wagner, known to comic geeks for Mage, Grendel, and the Sandman sorta-spinoff Sandman Mystery Theater. Gaiman contends that his portrayal of boarding school is a mix of his own experience and others he's read. Obviously not Harry Potter-ish. Yikes. Death in exercise gear on p. 21 is amusing. Rowland and Paine go on to have adventures outside of the Sandman series, but as with most of the related material, the quality is up and down, IMO.
[Stopping here. Must go pick up Guppy from karate. Will I ever finish this?]
Edited to add AGAIN.
Episode 5: Starved naked woman again, sigh. Why does Nada look so different from on page chapter 3, page 17, though Kelley Jones is credited as the artist for both? The issues do have different inkers: P Craig Russell on 3, and George Pratt on 5. But, drunk Thor on p13 with champagne bubbles within his word bubbles: hilarious!
Episode 6: In which Dream gives the key to someone who doesn't want it. Ha! Also, Azazel foolishly refuses hospitality, and Dream shows Choronzon a mercy he wouldn't have previously in the series.
Epilogue: (slightly confusing, as shown as Episode infinity sign, which could be seen as a double entendre of 8, but it's 7. Sigh.) Loki and Cluracan pull some tricks. (Giving a female as property. We already knew Cluracan was an ass, but Titania pimping out one of her own troubles me.) Nada is reborn as an Asian boy, and Lucifer makes a friend and enjoys the sunset. And Remiel seems to take a little too much enjoyment out of his new role in hell. Season of Mists closes with a fictional excerpt from Lucien's Library of Dreams, by G. K. Chesterton, the author who was the model for Gilbert, Fiddler's Green in The Doll's House.
AND, that's all I have. What did everybody else think? Remember, you can comment here, or tweet with the hashtag #SandMN.
Previous posts:
Sandman Readalong week two: link

Sandman Readalong week one: link
Sandman Readalong schedule: link