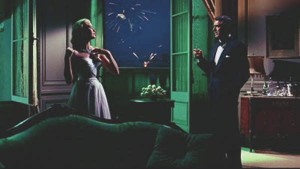 Welcome back the Ulysses readalong. We're through more than half the chapters, but not quite through half the book.
I was excited when chapter 13 began with three women friends on a beach, with straightforward storytelling, albeit in romanticized prose. As we spend more time in Gerty's mind, it becomes clear she has been brainwashed by women's magazines and novels and thinks in romantic cliches.
This chapter has a lot of close echoes of the analogous scene from the Odyssey, in which Odysseus is washed up on the shore of a river and falls asleep in a shrub. He wakes when a group of giggling young women, led by the princess Nausicaa, play with a ball that lands near him.
Gerty is daydreaming about a young man named Reggie, when she spots a dark man a little way up the beach. Her romantic imaginings transfer to him as she catches and holds his attention. Fireworks start, a nearby church is having a temperance meeting and service, Gerty shows some leg to the man, and becomes aware that he's masturbating. Around the part of the chapter, the POV switches and we find it's Bloom (Joyce had been withholding this detail from us till now) and we're back in his stream of consciousness. I may have the sequence mixed up a bit–they are tangled in my memory.
Ah!

Mr. Bloom with careful hand recomposed his wet shirt. O Lord that little limping devil. Begins to feel cold and clammy. Aftereffect not pleasant. Still you have to get rid of it someway. They don't care. Complimented perhaps. (13.850-854, Gabler)
I sensed Joyce provoking the reader in this chapter. We open with a seemingly charming tableau, which becomes less lovely as we read Gerty's silly romantic notions, her dislike of the mess and noise of children, and her deliberate and escalating provocation of Bloom, who is a willing participant. This felt like Bloom at his least likeable, ogling and jacking off to a young woman, one he thinks less of once he sees that she's lame, also one not much older than his daughter, Milly. We hear more about his troubled marriage with Molly, and the scene ends with him dozing, interspersed with the cries of "cuckoo," which I took as reminders of his supposed cuckolding by Boylan.
I suppose this interlude with Bloom's masturbating was inevitable–we've read about him taking a shit, farting, and now this. Bloom is a man with a messy, noisy body. Additionally, Gerty, for all her outward beauty, has some ugly thoughts, and a disability. She is a virgin, but also sexual, so she denies the madonna/whore dichotomy.
What did everyone else think?
I've found the resources at schmoop.com helpful for summaries and analysis. Like Wikipedia, though, it's not to be trusted completely. Searching this weekend, I also found posts on a book blog I admire, The Sheila Variations, here is the LINK to the post on Nausicaa.
Join us next Monday 4/27 to discuss chapter 14: Oxen of the Sun.
The rest of the schedule, and what we've done already:
The schedule for the rest:
4/27/15 discuss and tweet section 14
(3 weeks to read the very long section 15 which we'll spit into three chunks)
5/18/15 read, then discuss and tweet all of section 15
5/25/15 discuss and tweet section 16
(extra week to read the longer section 17)
6/8/15 read then discuss and tweet section 17
6/15/15 discuss and tweet section 18
6/16/15 Bloomsday!
Past posts:
Week 1: books 1 and 2
Week 2: books 3 and 4
Week 3: books 5, 6
Week 4: book 7
Week 5: book 8
Week 6: book 9
Week 7: book 10
Week 8: book 11
Week 9: book 12