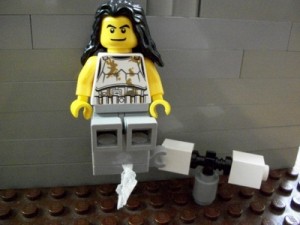 This moderating thing is way more time consuming than one might think. Oy.
Welcome to week 3's post on the Infinite Jest readalong.
The thing I notice most, especially on this, my second read of IJ, are the increasingly frequent connections to previous posts.
Lyle gives out wisdom like don't lift more than your body weight, which is a metaphor for addiction.
The yrstruly section recalls the street slang of the Wardine section on p37 and finishes by saying yrstruly is going to detox. Some call this section racist and troubling. Question: is yrstruly black? Did you assume s/he was, or that yrstruly is a he? I did, first time through. Instead, I think DFW is emphasizing how addicts are desperate yet clever, hardworking, even, and the difference between them is both vast in language, privilege and circumstance contrasted with Hal and the Peemster, and yet nothing at all in that they're all lonely and desperate and addicted, attached to a weight that is pulling them, not vice versa.
Hal talks to Orin and thinks about how much they might be lying to one another.
Ennet House is a detox. Might it be where yrstruly ends up?
An insurance form is filed for a bricklayer who tried to lift more than his bodyweight.
In this section, the section headings are long and complex, similar to those in Aeolus section of Ulysses.
In an essay, one of the ones referred to in Hal's college interview, Hal wonders what the next generation hero of non-action will be.
Helen Steeply's article, in which we learn that JOI committed suicide by putting his head in a microwave (how does that even work?) about someone whose external heart it stolen by a street person with a feather boa (Poor Tony from the yrstruly section.)
Why videotelephony failed–because it shattered the illusion that we were paying attention to one another, in other words, we weren't being honest, just as Hal wondered about Orin.
Lots about Pemulis scamming, and compare it to the drug trafficking of yrstruly and Don Gately. "Manages to avoid losing my just one dento-dermal layer" (155)
The section on JOI and his father, JOI Senior, was long and disturbing, and furthers the emphasis on fathers and sons, as in Ulysses, Hamlet, and more.
Pemulis goes to get DMZ, again, note how classy he makes drug procurement, which is described as mold on mold, rather like what Hal ate in the memory from p10-11, and the reaction to it sounds like something Kate Gompert describe in her section, and what Hal seems like in the first. Hal is reading Hamlet to help Mario.
Mario's film, narrated in second person.
The different addicts complaining to Patricia Montesian. Gately, Clenette, and that drug dealer with snakes are all mentioned.
I will likely embiggen this later, but this is a decent start. What did everyone else think?