Thursday, June 26th, 2014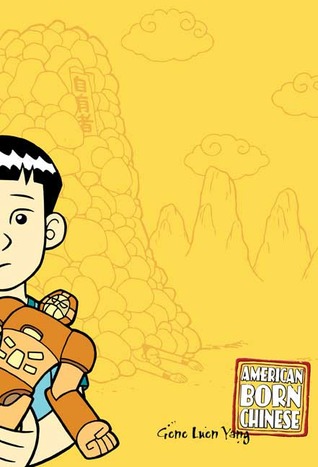 A friend invited me to a book discussion of Gene Luen Yang's graphic historical novels Boxers and Saints, so I figured I'd finally seize the synchronicity and pick up Yang's highly acclaimed, award-winning first graphic novel, American Born Chinese.
The stories of three beings interweave: the ancient Monkey King of China, a boy named Jin Wang moving to a new school in the US, and an American white boy named Danny whose cousin, Chin Kee, visits and embarrasses him on a regular basis.
I enjoyed the exploits of the monkey king and Jin's story. Less clear to me, and far less enjoyable (though not intended to be) were the episodes with boring Danny and his offensively caricatured cousin Chin Kee, embodying numerous American stereotypes of Asians, and set to a visual laugh track. These sections were discomforting, deliberately confronting racist stereotypes, and felt less balanced than the other two story lines when all three intersected.
I wanted to really like this book, I can see why it's so highly praised, I question my reasons for merely liking it but in the end, that's what it was: I liked it.