Friday, August 31st, 2012
My pile of graphic novels got higher over the past months as I did the Summer of Shelf Discovery Readalong and kept up with my book groups. I've finally been able to catch up, and it's been a good batch of varied stuff.

Cinderella: Fables are Forever by Chris Roberson ill. by Shawn McManus. The second miniseries devoted to Cinderella (I enjoyed the first, From Fabletown with Love), set in the Fables comic-series universe, this is a standalone miniseries that yet fits into the bigger mythology. I was a little disappointed when I finished it, but it's grown on me since. What I didn't like were the many flashbacks, and I sometimes was disoriented in time. What worked was introducing a nemesis for Cinderella, an interesting one, and seeing their interactions past and present. There was one twist at the end involving identity that I didn't quite buy. The book introduced another world and minor characters that also play roles in the larger Fables series, so this is one that works on its own and enhances the larger works. There are also tantalizing hints about Frau Totenkinder, who has always been one of my favorite characters.
Caveats: the Cinderella stories are riffs on James Bond, so they have sex and violence. On the surface Cindy is a strong, liberated woman exercising choice and power. But this is a story by men, and to me the sexism comes through louder than the strong-female aspect.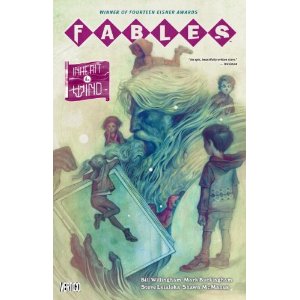 Fables v. 17 Inherit the Wind. Wahoo! A return to the series strong points, its main characters and the overarching stories. Finally we are back to the aftermath of the fables' war with Mr. Dark and the rebuilding that happens both by the heroes and villains. I loved the main story about which of Snow White and Bigby Wolf's cubs/kids would be the heir to the North Wind. I was very disappointed in the last Fables collection, Super Team, which felt thin and not as funny as it was trying to be. This collection was a great example of the things I love about the series, though Snow White as whiny mother is a drag; she was way more kick-ass at the beginning of the series.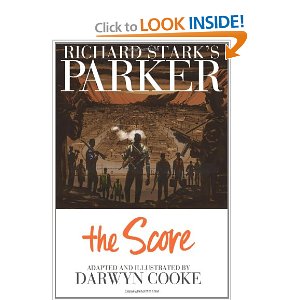 Richard Stark's Parker: The Score by Darwyn Cooke. I have no idea why I like noir, with its sexist tropes and poisonous portrayals of women, though I do think sometimes misANTHROPY is mistaken for misogyny. But for all its troublesome aspects, I like the genre when it's done well in book, film and comics, and I think Cooke's new Parker graphic novel is excellent. Parker is the career criminal who's getting a gang together for a sure-thing heist. He smells a rat but can't suss it out till everything is well under way. This is a complicated story with ten men involved in the heist, yet Cook does a great job of telling the story visually and keeping to the terse, minimalist style of the source material. There were several pages and spreads that I lingered over, appreciating how they did what they did. In addition to being a great story, this is a lovely book. Heavy covers, quality pages and nicely retro end pages. Highly recommended if you can stomach noir.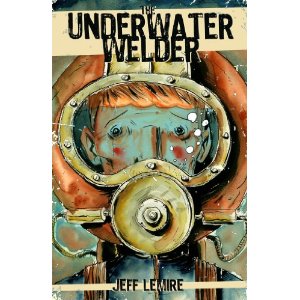 The Underwater Welder by Jeff Lemire, the author/illustrator of another of my favorite ongoing comic series, Sweet Tooth. Here, Lemire is telling a story set in present reality. Jack is a young husband and about to be father. He works as a welder for a nearby oil rig off the shore of a tiny town in Nova Scotia. When he dives, he has visions. Are they his imagination, or something more mystic than that, and what are they trying to tell him. A good mystery, sympathetic characters, and nicely told in wash-y black and white.
One thing: I am DONE with descriptions of something as the best episode of the Twilight Zone you've never seen. It's cheap shorthand for a blurbist or introduction author (here, Damon Lindelof, the Lost guy). The Underwater Welder was far more nuanced in story and execution than such a comparison implies.