Friday, July 19th, 2013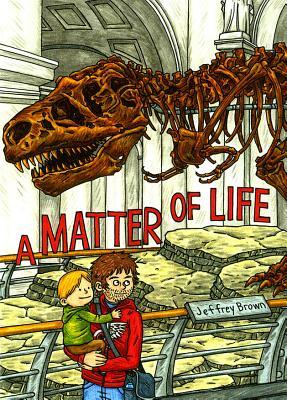 A Matter of Life is part of the growing comic-book memoir genre–think Persepolis, Fun Home, and Blankets. I was going to pass this one by when the comic shop guy personally recommended it. Every so often I wonder if he even reads comics any more. But he'd read this and liked it, so I got it.
You may recognize Brown's art from the wildly popular Darth Vader and Son, which my own sons love, and we've shared with many others as gifts. It has a sweet sensibility that combines the love and frustration of parenting with the imagined interactions of Darth Vader and a little Luke Skywalker. There's now a sequel, Vader's Little Princess.
But prior to these hits, Brown was known as a comic-book memoirist, and A Matter of Life is in that vein. In short visual stories, we see shots of life, past and present, with Brown's father and then his son, and all three of them together. As the son of a minister, he declared himself an atheist in his teens and made everyone uncomfortable. Then, when he becomes a father, how does he explain the universe to his son Oscar, without lying, but also without disrespecting the people he loves?
It's a deceptive book–short, easy to read, often sweet and funny, but with topics as weighted and fraught with mystery and history as the dinosaur skeletons on the cover. The hardcover edition is pleasingly sized with quality paper, typical of publisher Top Shelf's fare. Being a child, being a parent, struggling to articulate what he believes–Brown's struggles resonated with me a great deal.
See also: "Exploring a Crisis of Faith with Confessional Comics" at NPR.