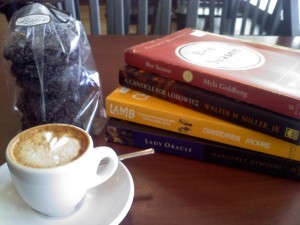 I have been going to the same dentist office for 12 years. The previous dentist retired, and a new one bought his practice. They know our family, and can even say which son's teeth seem like which parent's. Best of all, right downstairs is one of the best Half Price Books in the area. (I worked there 12 years ago, which is why I started seeing that dentist.)
No trip is complete without a stop before or after to the bookstore. This stack of four was me restraining myself.The combination of The Morning News Tournament of Books, plus the new book group I've started, in which we're reading fiction with themes of religion and mythology, hits me right in my vulnerable, compulsive book-buying spot. These I'm considering for the book group:
Bee Season by Myla Goldberg
A Canticle for Leibowitz by Walter M Miller, Jr.
Lamb by Christopher Moore
Lady Oracle by Margaret Atwood
After the bookstore, I go to Rustica bakery for an excellent coffee drink (macchiato nowadays) and their bittersweet chocolate cookies. Post-bookstore Rustica is one of my very happiest places.