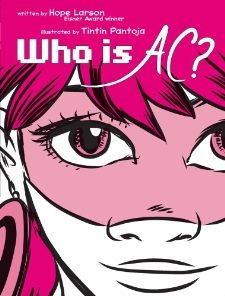 I love most of Hope Larson's graphic novels, Gray Horses, Chiggers, Salamander Dream, Mercury, with the exception of her adaptation of A Wrinkle in Time. I was interested to see how I'd like the oddly titled Who is AC? which is written by Larson, whose art I really like, but illustrated by manga artist Tintin Pantoja.
Lin is moving to a new town with her family. She's a writer who puts out her own 'zine. On the plane she gets a mysterious phone call that somehow results in superpowers, and further shenanigans ensue in creating a villain. There are a handful of strong female characters.
There's lots going on with a big cast of characters. Good and bad lurk in the cyber-background and while this is clearly the beginning of a series, it is a standalone story. While it worked better for me than Foiled and Curses Foiled Again, this feels more disposable than Larson's earlier works.