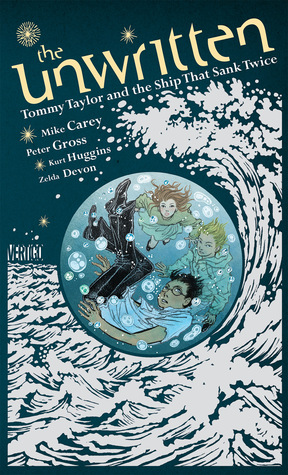 Now, HERE is a good entry into the excellent and involving comic-book series The Unwritten. In The Unwritten: Tommy Taylor and the Ship That Sank Twice, we get origin stories for both Tom Taylors, the real one and the fictional one. In alternating segments, illustrated in alternating styles, we learn how writer Wilson Taylor simultaneously created both his real son Tom and his fictional character Tommy.
In what has been told piecemeal throughout the series so far, we get the backstory of Tom's mother, her pregnancy, and Wilson's machinations to create a living embodiment/mirror of a fictional creation.
This alternates with the text of the first Tommy Taylor book that Wilson was writing, the Ship That Sank Twice about a boy named Tommy, his friends Sue and Peter, and their magical adventure.
Like all of Unwritten, this is a twisty-turny tale that has literary references upon references, yet is good no matter how many you get or don't, e.g., the Dumbledore-ish character is called Tulkinghorn, a name from Dicken's Bleak House. I really enjoyed how it joined together and filled in so much of what readers knew and didn't know.
While I liked the idea of the alternating styles, crisp pencils for the "real" world and softer watercolors for the fictional one, many of the segments had a different style. The credits page indicate that Peter Gross did all the layouts but several different artists did the finishing, This range of art styles made it feel uneven, rather than balanced, to me. This was a lovely, involving book. I would have preferred to have waited for one that Gross would have illustrated all himself, or at least half and half with another artist like Jon Muth, whose style I was reminded of in the fictional sections. But, I quibble. It's a lovely book, well illustrated, and well told. It's both a good entry in the series and a good possible entry point for new readers.