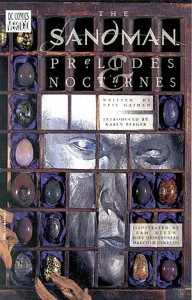 Welcome readers to the online readalong of Neil Gaiman's Sandman comic-book series! We're reading one of the 10 main graphic novel collections a week over December and January.
This week we're discussing Sandman Volume 1: Preludes and Nocturnes, or issues 1-8 of the series. I'll be posting here, and we're tweeting under the hashtag #SandMN.
This post will be to start the conversations.
I was hooked by all the literary references and the comic-book ones too, even if I didn't know who Scott Free and the Martian Manhunter were. (AND, guess what–you don't need to!) BUT, that said, "24 Hours" is one of the most horrific issues I've ever read. I shudder when I remember it, and it's one that friends have told me stop them from continuing through the series.
It certainly is one of the most overtly horrific issues of the series. Also, it's the first after artist Sam Kieth (of The Maxx) dropped out. (Makes me wonder if he dropped out because of the script of "24 hours".)
I advise people to read through issue 8, 'The Sound of Her Wings', before bailing. That issue, with its dramatic reveal, is one of my all-time favorites both of the series specifically, and comics in general.
A note about editions: I'm reading from the Absolute Edition Sandman Volume 1 which reprinted the series in large, lovely slip-covered editions, and what sold me on buying something I'd already owned twice (first in single issues and then in the 10 issue of graphic novels.)
Below is a good example of how wonky the color was in the original series and GN reprints. The original of p. 11 in issue 1 is on the left, the recolored version on the right. I'm not a color expert, but looks like an oversaturation of Yellow that made poor Stefan Wasserman's face green. In the recoloring, it doesn't look so weird.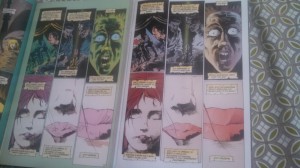 Please note that when you send a comment it goes to moderation till I approve it. Otherwise, we'd be slammed with spam, and no one wants that.
What did everyone else think? What version/edition are you reading?