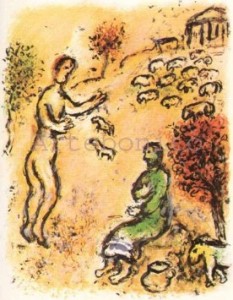 Welcome back, Ulysses friends; we're in the home stretch! And we're rewarded this week with a relatively straightforward chapter mostly about Bloom and Stephen hanging out in the wake of the bizarre events, real and imagined, of chapter 15, Circe.
Any thoughts on what this chapter's song should be?
Bloom picks up Stephen, who says he's thirsty, and they go to a cabman's shelter since the bars are closed; it's 1 a.m.
In the Odyssey, Eumaeus is the faithful swineherd of Odysseus', and Odysseus and Telemachus meet up in this tent. Their loose analogs are Bloom and Stephen and there is no direct analog to the swineherd.
The style of the writing is loose and loopy–think of a student staying up too late to write a paper. It's not the crisp intellectual prose of chapter 1.
Bloom, on how the stories are always about the husband coming home, never the wife on a journey:
Never about the runaway wife coming back, however much devoted to the absentee. The face at the window! (Vintageg 624)
Stephen, in a rare moment of empathy, and in one of his several points of departure from Bloom, who is nagging him about prostitutes:
Fear not them that sell the body but have not power to buy the soul. She is a bad merchant. She buys dear and sells cheap.
The Irish hero Parnell is mentioned throughout. His political career was wrecked after his affair with a married woman was made public. The questions of who is a hero and cuckoldry continue.
I enjoyed many of the sentences in this chapter, like this one about bad coffee:
Over his untasteable apology for a cup of coffee…
followed by:
Stephen…shoved aside his mug of coffee, or whatever you like to call it.
The chapter ends with Bloom inviting Stephen to his home. He's thought variously of exploiting Stephen, first for his writing, and at the end for his good tenor singing voice. This is one of their points of disagreement. Bloom is thinking like an agent, Stephen like an artist. Still, though, they have more in common than not, and walk off looking like a married couple, sharing stories.
What did everyone else think of Eumaeus?
We only have two chapters, but 3 weeks to go! I propose we take next Monday off, and "meet" up again in two weeks to discuss 17, Ithaca, in full. That will give those who are behind time to catch up.
Schedule and past posts:
6/1/15 week off to catch up and read section 17
6/8/15 read then discuss and tweet section 17
6/15/15 discuss and tweet section 18 and the whole thing!
6/16/15 Bloomsday!
Past posts:
Week 1: books 1 and 2
Week 2: books 3 and 4
Week 3: books 5, 6
Week 4: book 7
Week 5: book 8
Week 6: book 9
Week 7: book 10
Week 8: book 11
Week 9: book 12
Week 10: book 13
Week 11: book 14
Week 12: book 15 part 1/3
Week 13: book 15 part 2/3
Week 14: book 15 part 3/3