Tuesday, January 27th, 2015
Welcome to the last Sandman readalong post, for volume 10, The Wake! 76 issues, whew!
At the end of the issue #72 script, Gaiman noted:
Last page of The Wake. Which is, more or less, the last page of the story that began in the first issue of Sandman. The last three issues are small codas. Scary. I never thought I'd make it this far.
For those finishing the series, did you ever think you'd make it this far? Had you tried the series before and given up, or not started feeling that 75 issues was too much of a commitment?
In a perfect world, I think a Sandman readalong would do about 5 issues a week, so take about four months. We crammed ours into 2 months.
Remember, join in the conversation by adding comments to this post, or by posting on Twitter with the hashtag #SandMN.
The 10th and final collection of the series, The Wake is six issues, but really only three of them are The Wake. The final issues of the series, 73, 74, and 75, are codas. 73 is a coda to The Wake, and 74 and 75 to the series. In these last six issues we meet again with SO MANY of the myriad characters we've encountered over the previous collections.
First off, a giant kick in the ass to whomever the designer of volume 10's introduction was. What size is that font? Negative 2? Also, the 9's look like 0's. Bad font, unreadable size, but it's a good intro, though I think Gilmore's hyper-bitter dislike of one female character was perhaps influenced by personal baggage.
In The Wake, as he has done more and more throughout the series, Gaiman plays with multiple meanings. Those echoes and layers are what makes reading this series again so satisfying for me.
In the first issue of The Wake #70, wake means the aftermath, in the wake of previous events. I'm assuming Delirium got a crow as her winged messenger, since she's butchering the counting-crows rhyme when she and Barnabas appear.
Delirium, as always, has some of the best lines:
Delirium: I want to name him! Plippy ploppy cheese nose?
Death: Mm. NO. Try again.
Delirium: Eblis O'Shaughnessy?
Death: Okay.
Then again, Gilbert's scene is pretty amazing, too. I love Gilbert. Such a class act.
#71 means the wake after a funeral. Everyone starts to arrive. Rose's brother Jed looks like Shaggy from Scooby Doo!
Often in these collections/storylines, Gaiman gives us the essence of it in the middle. Here, perhaps, is as good a summary of the series as any other:
Lucien: Sometimes, perhaps, one must change or die. And in the end, there were perhaps, limits to how much he could let himself change.
Next we get Thessaly's side of the story, and while Dream's version made him sound like a victim, this version makes it more like they just weren't right together, and both were hurt.
This sadness is followed by a HILARIOUS PANEL with Clark Kent, Batman, and Martian Manhunter discussing whether they dream of being on TV, followed by a funny panel of the trio in trench coats for the DC nerds in the audience: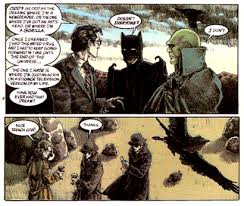 Another funny panel is when Matthew arrives and tries to figure out who's who, using the D motif:
Matthew: Hello. let's see: You two I know. Delirium…Death… let's see: Desire, Despair. Destiny. And uhm…Dog?
In #72, there is no body, but the cerement has a shape under it, hinting perhaps that Dream was an idea made into a shape, but not a physicality in the conventional sense.
Another good nugget in the interchange between Jed and Rose:
Jed: Families rock.
Rose: Aren't you the one that told me "families suck."?
Jed: They do both. They rock AND they suck.
Destruction shows up to give advice to Daniel. He already said goodbye to Morpheus. Eulogies are said, even by bears. The reincarnated Nada as a Chinese boy throws flowers on the river, and in the end, Daniel pardons Lyta and releases her from the punishment for killing his predecessor and other Morpheus victims: Burgess, Nuala, Madoc, Lyta, all wake, restored. Then in the last panel, Daniel meets the family, and there is very distinct body language for each of them.
#73, in which Hob goes to a Ren Fair, is like an epilogue to The Wake. We see how Hob goes (and chooses to keep going) on. His young lovely African-American girlfriend is a sign to us that the horror that Morpheus inflicted on Nada, then Ruby, then Carla, is ended.
#74 is lovely, but serves more as a conceit in which it's one issue that both the old and new Dream appear.
And #75, The Tempest, is a piece of work, is it not? I love the issue, but most of all, I love how it ends the series, and the echoes among how Shakespeare, Prospero, Dream, and Neil Gaiman have all chosen their ends, though they could not have foreseen the details of getting what they wanted.
Todd Klein's lettering for Shakespeare is such a small detail that adds so much.
This is also a great example of how this series enriched and even changed my life. I had no idea Shakespeare had worked on the Psalms, this taught me the Guy Fawkes rhyme, and this made me seek out The Tempest, which has become my favorite play of Shakespeare's. This series also probably was what ignited my initial interest in Shakespeare, which has gone on to become a love.
For those who've been reading along, I hope you've enjoyed the ride, and I hope the posts have been helpful as post-reading recaps and guides.
If you're left wanting more Sandman or Gaiman, choose your follow up s with care. There's a lot of middling stuff out there. Both of the Death miniseries are good (not great, though, IMO). Sandman Dream Hunters is in the spirit of #74, if you liked that fable-y type story. I also recommend Gaiman's Books of Magic and Stardust for things in a similar vein. Currently, the Fables series and Unwritten are similar in subject and spirit to Sandman, but for me they don't have its heft and resonance. You can email or comment, and I'll give customized comic recommendations.
So, what did everyone else think?
Previous posts:
Sandman Readalong week 6 v. 9 The Kindly Ones: link
Sandman Readlong week five v. 7 Brief Lives and v. 8 Worlds' End: link
Sandman Readalong week four, v. 5 A Game of You and v. 6 Fables and Reflections: link
Sandman Readalong week three v 3 Dream Country and v 4 Season of Mists: link
Sandman Readalong week two v 2 A Doll's House: link

Sandman Readalong week one v 1 Preludes and Nocturnes: link
Sandman Readalong schedule: link