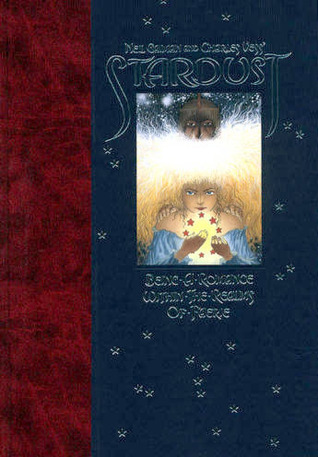 After I finished re-reading Neil Gaiman's The Ocean at the End of the Lane, I felt ambivalent, meaning torn, not indifferent. My favorite part of the book was the Hempstock family. A friend told me that the Hempstocks appeared in two other Gaiman works, Stardust and The Graveyard Book. I took my lovely edition of the graphic novel off a dusty shelf and dove in, probably for the first time since I read it in the individual issues when they came out in 19xx, and subsequently earned a World Fantasy Award. After that, Gaiman made a prose novel out of it, and after that it was turned into a movie. But before all that, it was a four-issue comic-book series, and that is what I re-read.
The tale starts with a young man named Dunstan Thorn, but soon shifts to the future and Dunstan's son Tristan, who makes a rash promise to a pretty girl. An adventure in the land of Faerie begins, which includes murder, mayhem, witches, unicorns, falling stars, prophecies, a weird small farting creature, truth, and lies.
Gaiman and Vess have obvious affection for a good fairy story. Gaiman's market is straight out of Christina Rosetti's poem The Goblin Market, and Vess's illustrations hark back to Arthur Rackham's classic fairy drawings. While Tristan's tale is fun and interesting, the only Hempstocks that appear are dull and conventional, nothing like their sparkling sistren in The Ocean at the End of the Lane.
This is an entertaining diversion, made better by its illustrations. Thus, I can't see the value in seeking out the prose novel, but I remember the movie was pretty good.