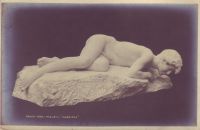 "What caused him consolation in his sitting posture?
The candour, nudity, pose, tranquility, youth, grace, sex, counsel of a statue erect in the centre of the table, an image of Narcissus purchased by auction from P.A. Wren, 9 Bachelor's Walk." (U17.1426) from Joyce Images
Oh, fellow #TCUlysses readalong-ers, how I have dragged my feet on writing this post! I actually finished not only chapter 17, Ithaca, but also 18, Penelope, and thus the whole megillah (Judaism reference!) last Friday, and was just basking in the feeling of finished-ness.
A few days ago I steeled my resolve and went back to the notes. I read the pages about Ulysses in Joseph Campbell's Mythic Words, Modern Worlds. They were interesting, especially the comparison to Dante's hell, and the descent and return. A few too many "of course" and "obviously"s. Then I read the chapters in Blamire's New Bloomsday Book. As usual, they gave a good reading of what I'd just read, helping me to understand, even if I did not always agree with the interpretation. Also, some "of course"s. If you write, don't include "of course" because whatever you're talking about is either obvious or in dispute, and if you write "of course" then you sound like a pompous blowhard. Then, as per my usual, I went to Ulysses Annotated, and friends, I got lost. It was as if I'd descended to hell, and could not slog through those 60 pages.
I found it interesting that I read chapter 17 rather quickly, and found it very accessible, not just in comparison to some of the more abstruse chapters. But the 60 pages of detailing a 70 page chapter exhausted me, and left me not much more enlightened, and certainly with more ill-will toward the book. Then I read the summary and analysis at schmoop, and those were a walk in the park, though as usual not entirely accurate.
Now that I've written ad nauseum about my experience of reading 17 and about 17, let me talk a bit about the chapter itself.
In 17, Bloom and Stephen go to Bloom's house. They're locked out, Bloom sneaks in, let's Stephen in, they talk and drink cocoa. They're revealed again as both similar and different. Bloom offers Stephen a place to stay, and is declined. They go outside to micturate before Stephen leaves. Bloom goes upstairs and hits his head when he enters the room because the furniture has been moved around. This is a callback to when Ulysses gets a stool thrown at him by one of the suitors when he returns to his home, disguised as an old man. There is other evidence of Blazes Boylan, including a dent in the mattress and flakes of potted meat. Poldy thinks about revenge but in the end works his way through it to forgiveness and understanding, both of Molly and the men she's loved. He crawls into bed with Molly, head to foot, (69 position, I thought), and the chapter ends with a big fat black dot.
What was your interpretation of that black dot? The ones I read suggested it was Poldy's place in the world, or other things. I can't help feeling that it illustrates the wet spot from the earlier sex that poor Poldy has to sleep in.
Would I have EVER thought such a thing about a book before reading THIS book? I don't know.
The chapter is written as a series of questions and answers, in the catechism style of Catholicism, which Poldy converted to in order to marry Molly. There is a reference to something in Judaism itching at my brain, some particular work that is structured also in question and answer, just as in the Passover hagaddah book, e.g., "Why is this night not like all other nights?" I thought it might be the work of Moses Maimonides, who is mentioned in the chapter. He wrote a book with one of my favorite titles ever: Guide for the Perplexed, but did not find evidence of such. Is it the Talmud? The Mishnah? Some other resource I can't remember that is commentary on the Torah or the Talmud? If anyone knows, please enlighten me.
This little paragraph, in the section about Poldy finding Molly intellectually deficient, provides a great segue to our next, final chapter, 18:
What compensated in the false balance of her intelligence for these and such deficiencies of judgment regarding persons, places and things?

The false apparent parallelism of all perpendicular arms of all balances, proved true by construction. The counterbalance of her proficiency of judgment regarding one person, proved true by experiment.
Basically, Molly knows Poldy, and he knows that she knows him.
Join us here next week for the last post from the #TCUlysses read.
There is no punctuation in the chapter so it can be hard to parse. If you're struggling, take a look at part 1 and part 2 of this, recommended by Ulysses vet Wilson Varga and see if it helps.
6/15/15 discuss and tweet section 18 and the whole thing!
6/16/15 Bloomsday!
Past posts:
Week 1: books 1 and 2
Week 2: books 3 and 4
Week 3: books 5, 6
Week 4: book 7
Week 5: book 8
Week 6: book 9
Week 7: book 10
Week 8: book 11
Week 9: book 12
Week 10: book 13
Week 11: book 14
Week 12: book 15 part 1/3
Week 13: book 15 part 2/3
Week 14: book 15 part 3/3
Weeks 15: book 16