Tuesday, January 20th, 2015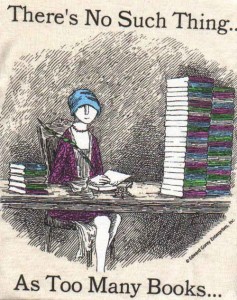 I know what I'll do this morning, I told myself. I'll catch up on my book blogging. I've been all about the Sandman and the Odyssey, but I'm reading other things too. I'll do a few book reviews.
HOLY CATS. I haven't blogged about other books since December. Waitaminute… Nope. November. CRAP. Well, don't I have a lot of catching up to do? In order, then, what I've finished since November:

Wuthering Heights by Emily Bronte. Re-read, for Gods & Monsters book group. Great, dark, weird, and tight as a drum. My husband G calls it a super villain origin story. I love how difficult it is to categorize, and discuss. What is Bronte criticizing, what is she valorizing? Can a novel be great when we hate most of the characters in it, and those characters were clearly written as unlikeable?
We Are All Completely Beside Ourselves by Karen Joy Fowler. For Books and Bars. Tore through it, and it changed how I think about humans as animals, and made me really uncomfortable watching Speed Racer and the chimpanzee.
Relish by Lucy Knisley. For Beer + Comics book group. Loved this comic-book memoir about food and growing up.
The Bronte Myth by Lucasta Miller. Re-read, this year with the focus on Emily. Fascinating deconstruction of how the poor little sick sisters have been mythologized while too often downplaying that they were righteous geniuses.
Lila by Marilynne Robinson. Beautiful. Like a poem, or a prayer.
Violent Cases and Black Orchid by Nail Gaiman and Dave McKean. Related reading for the #SandMN readalong.
Saga of the Swamp Thing and Swamp Thing: Love and Death by Alan Moore. Related reading for #SandMN. Also, amazing.
The Life-Changing Magic of Tidying Up by Marie Kondo. I borrowed this from the library after a friend made fun of it, then I read it and ran out and bought my own copy plus two others as gifts. Bizarre, and while sometimes I would laugh at it, I think reading this book has actually changed my life. Or, at least my sock drawer.
Not My Father's Son by Alan Cumming. Fascinating, heartbreaking story about Cumming's tormented relationship with his father.
Mrs. Frisby and the Rats of NIMH by Robert O'Brien. Read aloud to the boys. This book would never be published today–it's all backstory!
Bad Feminist by Roxane Gay. Smart, funny, heartbreaking essays by Gay, who writes in a way that makes her fun and interesting to hang out with. I'm glad I read this before her novel, An Untamed State, it gave me good context for that one.
The Best Christmas Pageant Ever by Barbara Robinson. Read aloud to the kids. Interesting to read it as an adult, when making fun of poor kids whose parents run off doesn't seem so funny. Still, some lovely and some hilarious parts.
A Child's Christmas in Wales by Dylan Thomas illustrated by Trina Schart Hyman. One of my favorite holidays re-alouds. The words are delicious in my mouth, and I just love Hyman's illustrations.
Station Eleven by Emily St. John Mandel. For The Morning News Tournament of Books. I tore through it, and was reminded of both Steven King's The Stand and James Kunstler's World Made by Hand series. Felt it spend far too much time on the male characters, and on female characters with the male ones. Would have preferred more of the women.
An Untamed State by Roxane Gay. A book full of violence with unlikeable main characters is not an easy one to recommend. But this is full of hard truths, and a moving trauma and recovery tale. Mind opening.
Ms. Marvel volume 1. A Muslim teen girl becomes a superhero. Smart, funny, engaging, and passes the Bechdel test. Can't wait for more!
So, friends, what have you all been reading? What have you loved, loathed, or put down out of indifference?