Tuesday, June 16th, 2015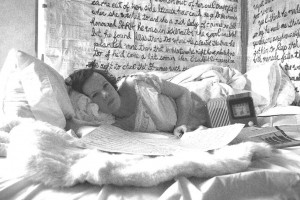 "Molly Bloom (Caraid O'Brien)," by Louie Correia.
If you would like to listen to the last chapter of Ulysses, Penelope, read aloud, this link at LISTEN is a good one.
And, we're done!
Chapter 18: Penelope, is Molly's voice, and the last of the book. It's interesting that we got 17 chapters of He Said, and that the 18th, She Said, is one of the most popular, with its famous last line
yes I said yes I will yes.
Though, since the foregoing chapter had no punctuation (Molly's stream of consciousness is the most stream-y) this is technically the end of the one, long sentence.
Who finished? Who tried but didn't?
ADDED LATER: Together, I think chapters 17 and 18, Ithaca and Penelope, were my favorites. I also think many things were revealed in them that might have had more impact for me if they hadn't been foretold in the notes from earlier chapters. I'm not sure I could have read this entire book without notes, but I wish that the notes that exist weren't so cavalier about the details just because this book has been around for over 100 years and others besides me have read it.
I thoroughly enjoyed Molly's chapter, her voice, and her observations. That said, I think it's important to remember that this is a chapter written by a man in a woman's voice. It's good, but I can't say I stay up thinking about sex all the time and obsessing about how men view me, so while Joyce gets some of this right, I do think he sexualizes to an extreme that is more a male fantasy than an everywoman's viewpoint.
Molly's chapter is divided into eight "sentences" with no punctuation, so it can be hard to follow. The summary at Schmoop.com is helpful. I took this to mean that her stream of consciousness is the "streamiest" and more water-y and mothering than those of the other men in the book.
I will do a follow-up post on the whole book, but this wraps things up for now. Thanks for those who have come along for the journey.
Past posts:
Week 1: books 1 and 2
Week 2: books 3 and 4
Week 3: books 5, 6
Week 4: book 7
Week 5: book 8
Week 6: book 9
Week 7: book 10
Week 8: book 11
Week 9: book 12
Week 10: book 13
Week 11: book 14
Week 12: book 15 part 1/3
Week 13: book 15 part 2/3
Week 14: book 15 part 3/3
Week 15: book 16
Week 16: book 17