Friday, December 11th, 2015
This could easily have been genderfied and written as Great Graphic Novels for Girls, but that does everyone a disservice. What I love about this list is that these books are for all ages, genders, whatevers. Most of them feature strong female protagonists, and many are written or drawn by women. But the titles in this post have been read and approved of by no girls in my house, just my 40-something husband, myself and our 12 and 9yo boys Drake and Guppy. Heroes are all shapes, colors, sizes, and in some comics, species. Here are some of our family favorites.

Nimona by Noelle Stevenson. Nimona is a young woman who wants to be the sidekick to a supervillain. But the villain she pesters isn't so villainous, and the hero who opposes him isn't so heroic. The government is doing bad things, Nimona has a secret, and everything gets exciting and intense on the way to a very satisfying ending. Nimona is a terrific adventure, and perhaps our family's favorite book of the year.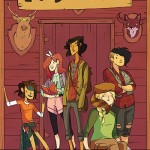 Lumberjanes by Noelle Stevenson and many more. I have to admit. I bought the first issue, read it, didn't love it, gave it to my boys, who did love it, then I didn't read it again. Till last week. When I devoured all twenty issues and wonder how the junk I didn't immediately fall in love with this series about a group of five friends at summer camp who get into magical hijinks. Because now I am totally in love. The friendships, the magic and myth, the humor, the art, all creates one of my favorite ongoing series in a long time. It was originally scheduled as an 8-issue mini series, but early critical acclaim and strong sales got it the nod to be an ongoing series. It's collected in two 4-issue trade paperbacks, or an awesome hardcover edition of the first 8 issues as well as all the covers and song mixes. The hardcover Lumberjanes To the Max edition would make a GREAT holiday gift and would stand up well to the multiple readings it is sure to get.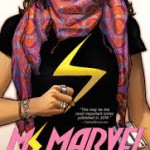 Ms. Marvel trade paperbacks volumes 1-4. Marvel made the news when Muslim teenager Kamala Khan was gifted with the powers of Ms. Marvel. Kamala's a normal kid, living in Jersey City, with overprotective parents and the new superpowers don't make life easier at all. The creative team of G. Willow Wilson and Adrian Alphona has been strong and steady in the spinning out of Kamala's transformations. This series is fun and sweet, but with a serious core about tough issues that make it one of my favorite releases every month. Buy all the graphic novels, then pick up the relaunched Ms. Marvel #1.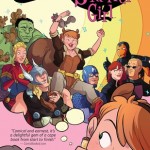 Completely un-serious is The Unbeatable Squirrel Girl, another super heroine in the Marvel universe, rescued from obscurity as part of the Great Lakes Avengers, and given her own book last year that kept selling out. Doreen Green is a computer science student at a community college but secretly has the powers of…you guessed it, a squirrel. Which wouldn't seem that intimidating, and yet, she is super strong, fast, plus her squirrel sidekick Tippytoe gives her inside information against the bad guys. There is a running commentary at the bottom of every page, and this comic makes us laugh out loud. The two graphic novels collect the original series, and the new series is 2 issues in–look for them at your local comic shop.
Smile, Sisters, and Drama by Raina Telgemaier. Smile is the artist's own story of how she knocked out her permanent teeth when young, and had a long strange journey to replace them. Sisters is the sequel about her challenging relationship with her sister, and Drama is a standalone graphic novel about a girl in the drama club. The stories and art are charming and easy to relate to.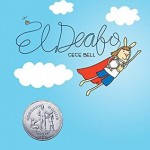 El Deafo by Cece Bell has a similar feel to Smile–a young girl loses her hearing, and has to navigate girlhood with hearing aids. The characters are drawn as rabbits, and this is a moving tale.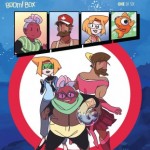 Power Up is a miniseries that is about to finish. The last issue, #6 is due for release on December 23. It's about a group of four oddballs–underemployed Amie, middle-aged mom Sandy, construction worker Kevin, and Silas the goldfish–who receive superpowers without warning or explanation, though they're immediately attacked by enemies before they can figure it all out. They have to figure out how to work together (and communicate with a FISH) and I can't wait to see how it ends.
These titles are just some of our favorites–I don't have the time to go into the others we've enjoyed–check the links out for more info on Roller Girl, Mermin, Zita the Space Girl, Bandette, Secret Coders, and Cleopatra in Space. These are just the ones we've read–there are so many more we haven't gotten to yet! So visit your local comic shop to see these lovelies in person. It is a great time in comics, with a wealth of diverse titles across the genres. Go–read–enjoy!